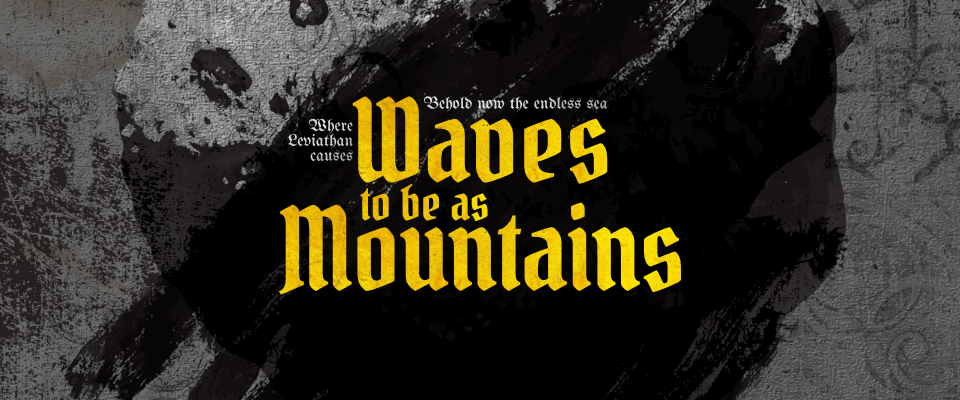 Waves to be as Mountains
The Nameless Scriptures predict the End Times, as foretold by the basilisk Verhu. Seven miserable psalms counting down to eternal darkness.
Leviathan has risen from the Endless Sea, fulfilling the prophecy of the fourth psalm. But perhaps you can stop the Apocalypse.
Pound pitons into slimy flesh.
Tie ropes tightly.
Begin your ascent.
A Kaiju-Sized Hex Crawl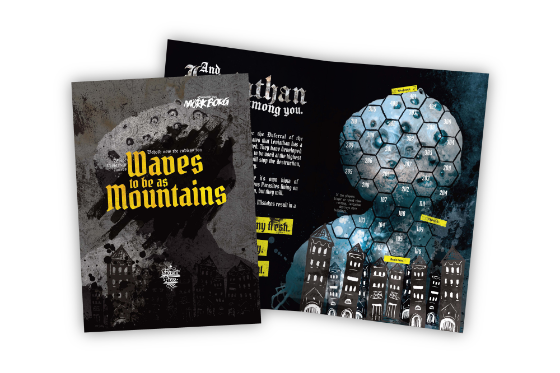 Created for KAIJUJAM and inspired by Cloverfield and Pacific Rim, this is an adventure where the monster is the map. Leviathan becomes a hex map where the players start at the bottom and climb to the top. Kaiju movie tropes are built-in, including The Amicable Society for the Deferral of the Apocalypse finding a "weak spot" on Leviathan.
This 14 page PDF third-party Mörk Borg adventure includes:
d8 Rumors & Lies
Leviathan hex map
d12 Random Encounters While Climbing
Three new creatures with stats
Part of the Psalm Series
Take your players through the entire series, creating a campaign within the MÖRK BORG world:
Compatible with MÖRK BORG
Ready to use as a MÖRK BORG adventure, and easily adaptable to other OSR RPG systems.
Note that the MÖRK BORG tabletop roleplaying system rules are not included in this adventure. You can purchase them either in print or as PDF separately. You can also download rules references and character sheets for free.
Text from the Nameless Scriptures used with permission.
Waves To Be As Mountains is an independent production by Exeunt Press and is not affiliated with Ockult Örtmästare Games or Stockholm Kartell. It is published under the MÖRK BORG Third Party License.
MÖRK BORG is copyright Ockult Örtmästare Games and Stockholm Kartell.
Safety
CW: Violence, Gore, Body Horror, Parasites, Thalassophobia
Please make sure everyone feels safe and is having fun.
The TTRPG Safety Toolkit is a resource co-curated by Kienna Shaw and Lauren Bryant-Monk. The TTRPG Safety Toolkit is a compilation of safety tools that have been designed by members of the tabletop roleplaying games community for use by players and GMs at the table. You can find it at bit.ly/ttrpgsafetytoolkit.
Purchase
In order to download this adventure you must purchase it at or above the minimum price of $7.99 USD. You will get access to the following files:
EXEUNT-waves-to-be-as-mountains-spreads.pdf
77 MB
EXEUNT-waves-to-be-as-mountains-pages.pdf
79 MB
EXEUNT-waves-to-be-as-mountains-hexmap.png
1 MB
Community Copies
Support this adventure at or above a special price point to receive something exclusive.
Community Copy
Claim a free copy of Waves to be as Mountains if you aren't sure you can afford it. No questions asked.