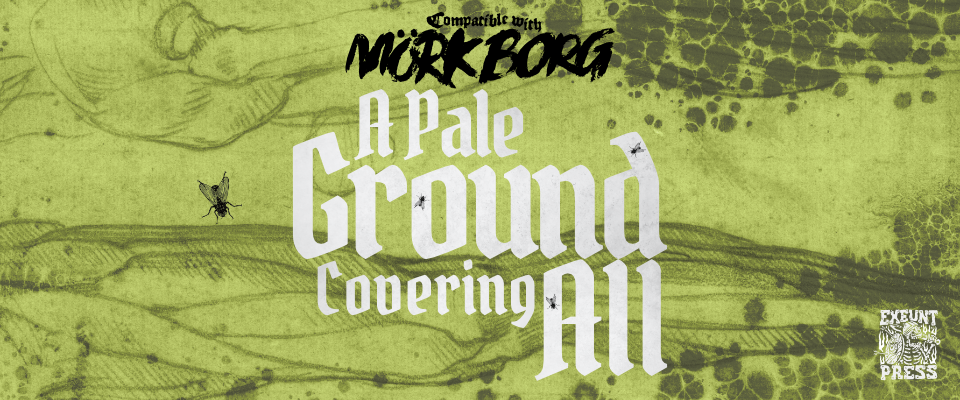 A Pale Ground Covering All
All manner of winged pests fill the air of Grift. The endless buzzing is an annoyance, but hardly dangerous. Yet King Sigfúm knows they are no mere pests. In the swarms, the mocked king sees the fulfillment of the Calendar of Nechrubel.
The King watched The Killing Crown spread, fulfilling the First Psalm. Now he watches from the shore of the Endless Sea as the Second Psalm comes to pass…
The Mad Sorcerer's Laboratory
The Mad Sorcerer Bründl has invented a teleportation system using massive stone portals, but things have gone horribly wrong. He may have triggered the Second Psalm and hasted apocalypse.
Includes:
d8 Rumors and Lies
16 room dungeon Laboratory of the Mad Sorcerer
Detailed room descriptions and magic items
The Horror Fly boss monster
Art by Perplexing Ruins (@perplexingruins), Rick Hershey / Fat Goblin Games, dead people and others.
Created for the Bogfolk Monster Jam and the In Search of Adventure Jam. Inspired by The Fly (1986).
Part of the Psalm Series
Take your players through the entire series, creating a campaign within the MÖRK BORG world:
Compatible with MÖRK BORG
Ready to use as a MÖRK BORG adventure, and easily adaptable to other OSR RPG systems.
Note that the MÖRK BORG tabletop roleplaying system rules are not included in this adventure. You can purchase them either in print or as PDF separately. You can also download rules references and character sheets for free.
Text from the Nameless Scriptures used with permission.
A Pale Ground Covering All is an independent production by Exeunt Press and is not affiliated with Ockult Örtmästare Games or Stockholm Kartell. It is published under the MÖRK BORG Third Party License.
MÖRK BORG is copyright Ockult Örtmästare Games and Stockholm Kartell.
Safety
CW: Violence, Gore, Body Horror, Flies
Please make sure everyone feels safe and is having fun.
The TTRPG Safety Toolkit is a resource co-curated by Kienna Shaw and Lauren Bryant-Monk. The TTRPG Safety Toolkit is a compilation of safety tools that have been designed by members of the tabletop roleplaying games community for use by players and GMs at the table. You can find it at bit.ly/ttrpgsafetytoolkit.
Purchase
In order to download this adventure you must purchase it at or above the minimum price of $7.99 USD. You will get access to the following files:
EXEUNT - A Pale Ground Covering All - Spreads.pdf
34 MB
EXEUNT - A Pale Ground Covering All - Pages.pdf
33 MB
EXEUNT - A Pale Ground Covering All - Numbered Map.pdf
3 MB
EXEUNT - A Pale Ground Covering All - JAM VERSION.pdf
18 MB