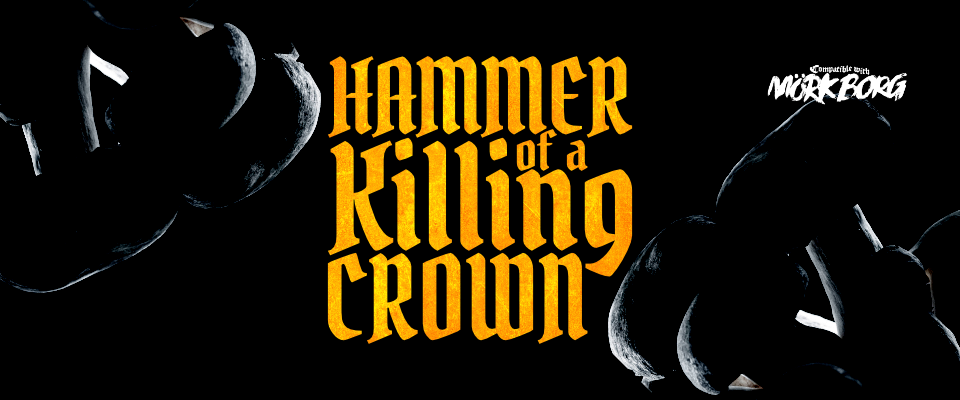 Hammer of a Killing Crown
Tonight Aalgut digs graves alone.
His family is dead. Cursed by a lich. Destroyed by sickness and misfortune. Now buried in the Graven-Tosk cemetery like all the others.
It's a simple agreement: You retrieve the artifact. Aalgut exacts his revenge, and breaks the curse.
After that, the unbounded power of the Killing Crown is yours.
Delve beneath the Tainted Chapel
Created for Random Adventure Jam, this is a toad and mushroom filled adventure. Hunt down the Killing Crown, rumored to be a profane relic that can grant wishes and strike down any foe.
This 26 page third-party Mörk Borg adventure includes:
d6 Reasons to be in Graven-Tosk at night
d12 Rumors & Lies
d6 Tainted Trinkets
d6 Bufonic Scrolls
The Tainted Chapel map and encounters
The Befouler's Barrow map and encounters
d12 Bufonic Mutations
Title generated using the Adventure Title Generator by Chris Bissette.

Dungeon generated in part using DNGNGEN by Karl Druid. Maps generated using One Page Dungeon by Oleg Dolya.
Character art (not randomly generated) by Publisher's Choice Quality Stock Art (c) Rick Hershey / Fat Goblin Games.
Part of the Psalm Series
Take your players through the entire series, creating a campaign within the MÖRK BORG world:
Compatible with MÖRK BORG
Ready to use as a MÖRK BORG adventure, and easily adaptable to other OSR RPG systems.
Note that the MÖRK BORG tabletop roleplaying system rules are not included in this adventure. You can purchase them either in print or as PDF separately. You can also download rules references and character sheets for free.
Text from the Nameless Scriptures used with permission.
Hammer of a Killing Crown is an independent production by Exeunt Press and is not affiliated with Ockult Örtmästare Games or Stockholm Kartell. It is published under the MÖRK BORG Third Party License.
MÖRK BORG is copyright Ockult Örtmästare Games and Stockholm Kartell.
Reviews
"Strong and consistent theme and symbolism. Clear mechanics… Aesthetics complement the readability. A breeze to read and reference."
— Ex Libris (morkborg.exlibrisrpg.com)
Safety
CW: Violence, Gore, Body Horror, Communicable Diseases, Toads
Please make sure everyone feels safe and is having fun.
The TTRPG Safety Toolkit is a resource co-curated by Kienna Shaw and Lauren Bryant-Monk. The TTRPG Safety Toolkit is a compilation of safety tools that have been designed by members of the tabletop roleplaying games community for use by players and GMs at the table. You can find it at bit.ly/ttrpgsafetytoolkit.
Purchase
In order to download this adventure you must purchase it at or above the minimum price of $7.99 USD. You will get access to the following files:
EXEUNT - Hammer of a Killing Crown Spreads.pdf
129 MB
EXEUNT - Hammer of a Killing Crown Pages.pdf
128 MB
EXEUNT - Hammer of a Killing Crown - The Tainted Chapel.png
1 MB
EXEUNT - Hammer of a Killing Crown - The Befoulers Barrow.png
1 MB
Community Copies
Support this adventure at or above a special price point to receive something exclusive.
Community Copy
Claim a free copy of Hammer of the Killing Crown if you aren't sure you can afford it. No questions asked.