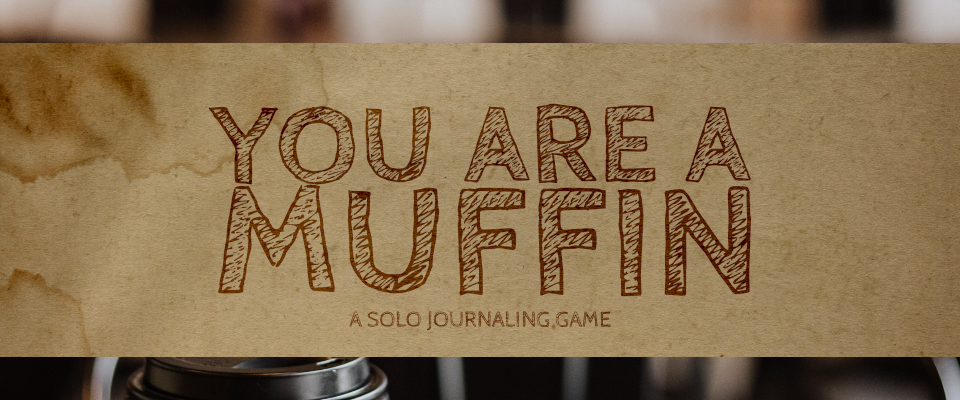 You are a Muffin
You are a pastry in a cozy café.
As you sit behind glass on the counter, you can see customers coming and going. They order drinks and sit for a while. They eventually leave.
You can feel yourself slowly becoming stale.
Perhaps the next one will choose you.
A Cozy Solo Journaling Game
Created for the Lone Wolf Solo TTRPG Jam and inspired by Arnie the Doughnut by Laurie Keller (@lkellerbooks), You are a Muffin is a solo journaling game.
Unlike most games where you are playing the role of another person, in this game you are a pastry in a cozy café or coffee shop. From your spot on the counter, you'll watch as customers come in and out.
Each customer will place an order, and perhaps take a seat to stay a while. There's a chance that they might choose you as their snack, but that's fine. After all, that's why you were made.
As the hours pass, you'll become a bit more stale.
The game continues until either you are consumed or the café closes.
This 16-page solo journaling game includes:
Recommended music while playing
Character creation rules
Six different pastry types to choose (not just muffins)
Mechanism for slowly becoming stale
Questions and prompts for describing customers
Character sheet
Make a cup of coffee or tea, put on some music, grab a pen and enjoy.

Watch it played
1UP RPG has posted some videos of his playthrough of You are a Muffin on Instagram (Intro, First Customer, Turn 3) and TikTok. His videos also include charming little sketches.

If you'd like to share your playthroughs, please tag them #MuffinRPG or send me a message.
Reviews
"Beautifully creative and strangely evocative. I never knew how peaceful it could be to be a cheesy scone in a cozy cafe. Wonderful layout and easy to pick up rules. Excellent game!" -- brandontlee
Safety
CW: Loneliness, Phagophobia
As a solo game, You are a Muffin is obviously intended to be played alone.
The intention is to create a cozy and relaxing experience, albeit one where you will ultimately be eaten by a customer.
If you are struggling with feelings of loneliness or feeling isolated, help is available.
SAMHSA's National Helpline is a free, confidential, 24/7, 365-day-a-year treatment referral and information service (in English and Spanish) for individuals and families. You can find more information at www.samhsa.gov/find-help/national-helpline.
Download
Click download now to get access to the following files:
EXEUNT - You are a Muffin - Spreads.pdf
22 MB
EXEUNT - You are a Muffin - Pages.pdf
22 MB
EXEUNT - You are a Muffin - Character Sheet.pdf
458 kB