Eleventh Beast - A Solo Monster Hunting Game
1746
The BEAST is approaching.
Investigate the rumors.
Learn its secrets.
Hunt it down.
Knowledge is your weapon.
Inspired by Hellboy by Mike Mignola and Fallen by Perplexing Ruins. Eleventh Beast is a solo monster hunting game from Exeunt Press, creator of the ENNIE-nominated Exclusion Zone Botanist.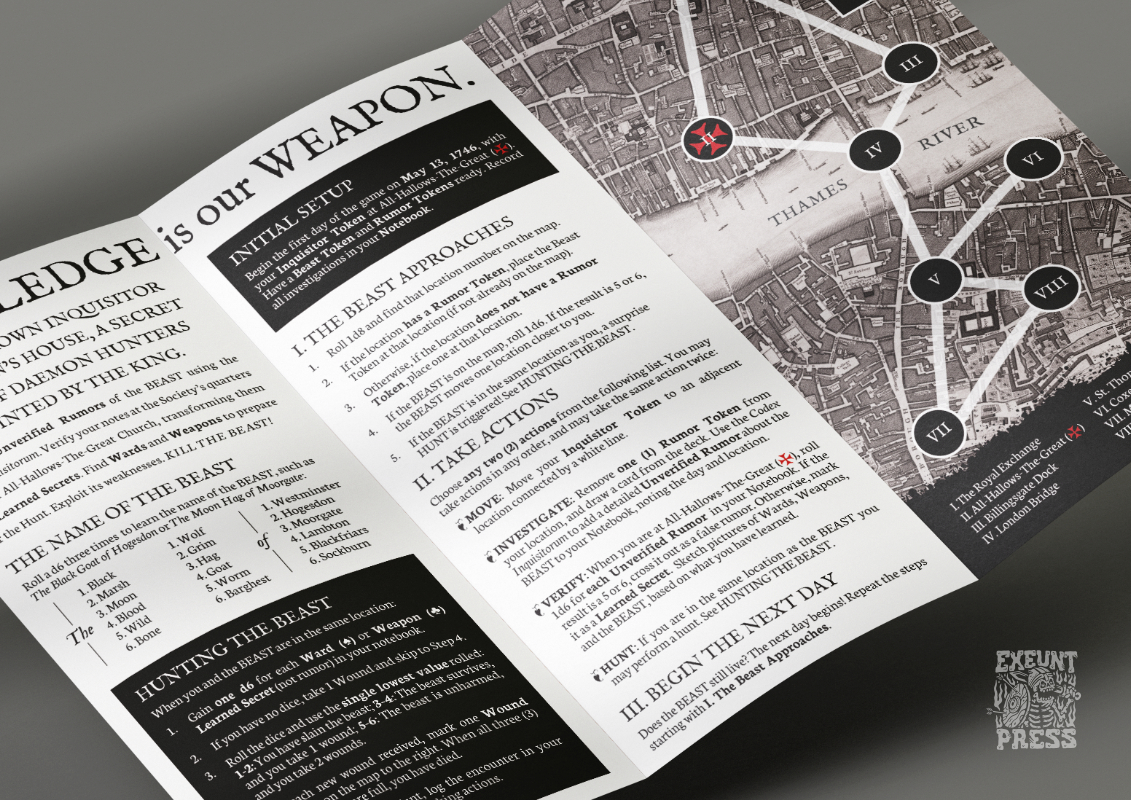 "A solo RPG with outstanding art design, set against the backdrop of 18th-century London, which is highly appealing." -- Modi Muse

"Eleventh Beast is a fast, fun, and immersive solo game for players who enjoy the macabre and occult. " -- Sleepy Sasquatch Games
This one-page, A4 tri-fold brochure PDF solo journaling game includes:

Beast name generator
Historically inspired map of 1746 London
Codex Inquisitorum with investigation prompts
Plus these optional extras:

Stand-alone A5 printable map
Printable tokens with art by Perplexing Ruins
Example Inquisitor Notebook entry
The Eleventh Beast original sonnet (video)
Alternate "improved contrast" version
Watch the release trailer and music/lyric video!
WHAT YOU NEED TO PLAY: Some paper or a notebook, along with some sketching tools. You'll also need five six-sided dice (5d6), one eight-sided die (1d8), a deck of cards with jokers removed, and three kinds of tokens. Printable map and tokens with art by Perplexing Ruins included.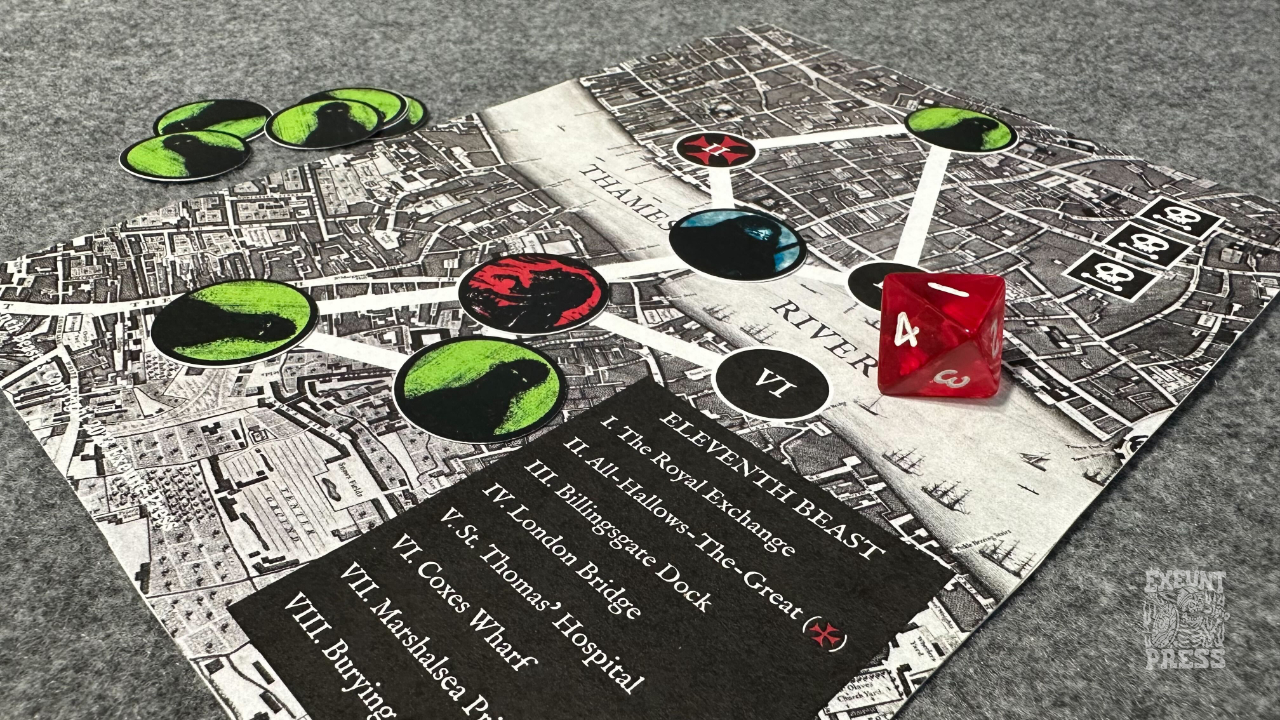 Updates

Sign up for the Exeunt Omnes newsletter to see what's next for Eleventh Beast and other games from Exeunt Press.
Follow on Twitter @exeuntpress or Bluesky @exeunt.press.
Similar games
If you enjoy thematic solo games like Eleventh Beast, you might also like:
Exclusion Zone Botanist: An ENNIE-nominated solo drawing hex crawl game. Explore a dark forest, documenting the flora. Get out before it corrupts you.
You are a Muffin: Unlike most games where you are playing the role of another person, in this solo journaling game you are a pastry in a cozy café. You grow stale as you wait to be consumed.
Safety
CW: Horror, Violence
As a solo game, Eleventh Beast is obviously intended to be played alone. If you are struggling with feelings of loneliness or feeling isolated, help is available.
SAMHSA's National Helpline is a free, confidential, 24/7, 365-day-a-year treatment referral and information service for individuals and families. You can find more information at www.samhsa.gov/find-help/national-helpline.
Download
Click download now to get access to the following files:
EXEUNT - Eleventh Beast.pdf
17 MB
EXEUNT - Eleventh Beast - Map A5.pdf
6 MB
EXEUNT - Eleventh Beast - Tokens.pdf
2 MB
EXEUNT - Eleventh Beast - Inquisitor Notebook Example.pdf
7 MB
EXEUNT - Eleventh Beast - The Beast Sonnet.pdf
1 MB
EXEUNT - Eleventh Beast - Improved Contrast.pdf
10 MB