Exclusion Zone Botanist
YOU ARE AN EXCLUSION ZONE BOTANIST.
GET IN.
DISCOVER AND DOCUMENT.
GET OUT.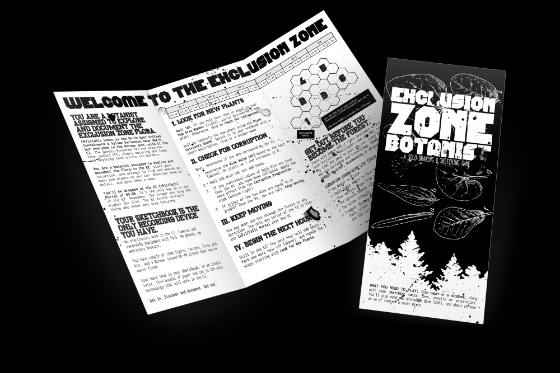 Inspired by The Colour Out of Space by H.P. Lovecraft and Annihilation by Jeff VanderMeer. Exclusion Zone Botanist is an ENNIE-nominated solo drawing hex crawl game.
This one-page, A4 tri-fold brochure PDF solo drawing game includes:
Corruption Progression List
Hex map of the Exclusion Zone
Plant Discovery Guide with leaf shapes and arrangements
Actual leaf morphology (phytomorphology) terms
A "low splatter" PDF version that increases readability
Plant Discovery Guide 9.1b mini-expansion
Watch the release trailer and thank you message.
Reviews
"Terrifying. The first solo RPG I played to the end in a long time." -- Levoid
"Love the concept, concise, easy to understand and pick up and go. Great little solo game." -- atheral

"This is brilliantly done. It's super evocative and has an easy to grasp gameplay loop with just the right amount of risk/reward calculation to keep things interesting." -- carpedavid
"A beautiful game. A perfect way to blend roleplay and art. One of the best pamphlet games of the year." -- AmidaBosatsu
"An excellent blend of horror, art and pseudo science geekiness!" -- @KawakamiGregg
"I love this, such good inspiration for sketching!" -- @slothgirl
"An inventive little adventure that I thouroughly enjoyed. The plant creation aspect is so creative and inspiring! Immediately decided that a second playthrough is in order, soon." -- myfawnwy
"I found this by chance and I loved the experience! I got a nice hour of journaling plus some really nice plant designs out of it!" -- dorathy
Plant Discovery Guide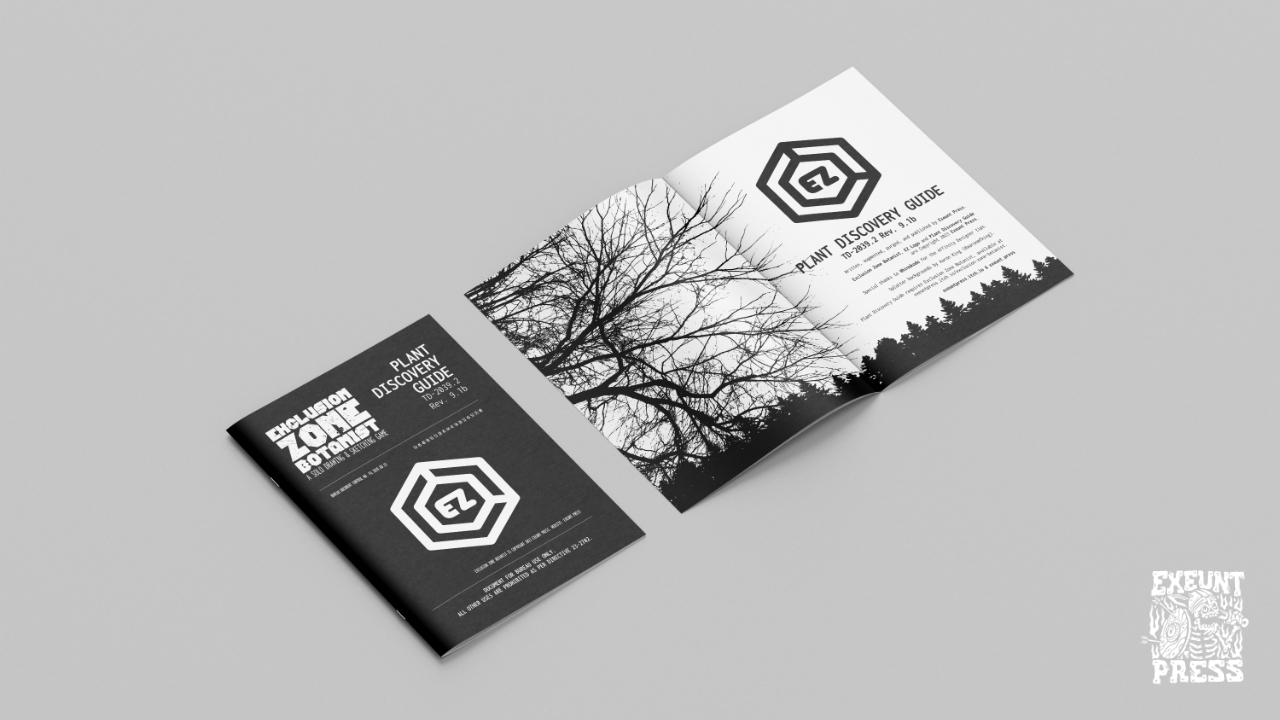 Plant Discovery Guide 9.1b is a free mini-expansion for the Exclusion Zone Botanist solo drawing and sketching game. It doubles the number of unusual plant features, expands each prompt, and includes advice for solo journaling.
Requires the Exclusion Zone Botanist core pamphlet and a set of dice, each a different color. This is a separate PDF available for download from this page.
Updates
Sign up for the Exeunt Omnes newsletter to see what's next for Exclusion Zone Botanist. Things are coming...
Similar games
If you enjoy thematic solo games like Exclusion Zone Botanist, you might also like:
Eleventh Beast: A solo monster hunting game set in 1746 London. Investigate rumors. Learn its secrets. Hunt the Beast.
You are a Muffin: Unlike most games where you are playing the role of another person, in this solo journaling game you are a pastry in a cozy café. You grow stale as you wait to be consumed.
Safety
CW: Isolation, Body Horror
As a solo game, Exclusion Zone Botanist is obviously intended to be played alone. If you are struggling with feelings of loneliness or feeling isolated, help is available.
SAMHSA's National Helpline is a free, confidential, 24/7, 365-day-a-year treatment referral and information service for individuals and families. You can find more information at www.samhsa.gov/find-help/national-helpline.
Download
Click download now to get access to the following files:
EXEUNT - Exclusion Zone Botanist - Pages.pdf
2 MB
EXEUNT - Exclusion Zone Botanist - Low Splatter.pdf
1 MB
EXEUNT - EZB Plant Discovery Guide - Pages.pdf
7 MB
EXEUNT - EZB Plant Discovery Guide - Spreads.pdf
4 MB
EXEUNT - Exclusion Zone Botanist - EZ Map A5.pdf
417 kB