Exclusion Zone Botanist
YOU ARE AN EXCLUSION ZONE BOTANIST.
GET IN. DISCOVER AND DOCUMENT. GET OUT.
Officially it's known as the North East Unified Containment & Sylvan Exclusion Zone 502-H, but everyone in the Bureau just calls it the EZ. The heavily forested 103 km2 area has been sealed off for years, slowly mutating the land, and anything that dares enter its borders.
A solo botanical sketching hex crawl game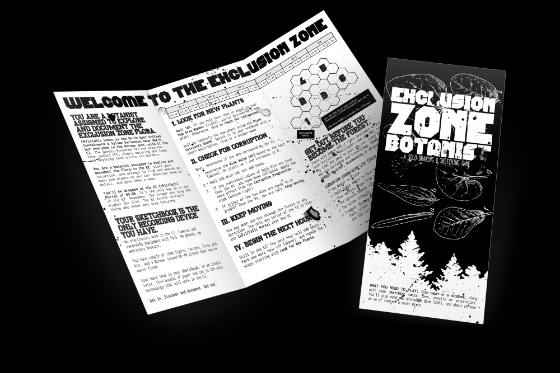 Created for the One-Page RPG Jam 2022 and inspired by The Colour Out of Space by H.P. Lovecraft and Annihilation by Jeff VanderMeer (@jeffvandermeer). Exclusion Zone Botanist is a solo drawing hex crawl game.
In this game there are no hit points or skill checks. You are exploring and drawing.
Each in-game hour you'll be walking deeper into the dark forest of the Exclusion Zone, hunting for new and unusual plants. If you discover one, you'll stop to sketch it in your notebook along with a description and name.
The goal is to discover and sketch as many plants as possible and get out before you are corrupted by the forest.
This one-page, A4 tri-fold brochure PDF solo drawing game includes:
Corruption Progression List
Hex map of the Exclusion Zone
Plant Discovery Guide with leaf shapes and arrangements
Actual leaf morphology (phytomorphology) terms
A "low splatter" PDF version that increases readability
Some of the mechanisms in this game are inspired by You Are A Muffin.
What you'll need to play
Some paper or notebook
Sketching tools: pens, pencils or watercolors
Two six-sided dice (2d6)
About an hour or so of time in a quiet place
Reviews
"Love the concept, concise, easy to understand and pick up and go. Great little solo game." -- atheral

"This is brilliantly done. It's super evocative and has an easy to grasp gameplay loop with just the right amount of risk/reward calculation to keep things interesting." -- carpedavid
"A beautiful game. A perfect way to blend roleplay and art. One of the best pamphlet games of the year." -- AmidaBosatsu
"An excellent blend of horror, art and pseudo science geekiness!" -- @KawakamiGregg
"I love this, such good inspiration for sketching!" -- @slothgirl
Safety
CW: Isolation, Body Horror
As a solo game, Exclusion Zone Botanist is obviously intended to be played alone.
If you are struggling with feelings of loneliness or feeling isolated, help is available.
SAMHSA's National Helpline is a free, confidential, 24/7, 365-day-a-year treatment referral and information service (in English and Spanish) for individuals and families. You can find more information at www.samhsa.gov/find-help/national-helpline.
Download
Click download now to get access to the following files:
EXEUNT - Exclusion Zone Botanist - Pages.pdf
2 MB
EXEUNT - Exclusion Zone Botanist - Low Splatter.pdf
1 MB