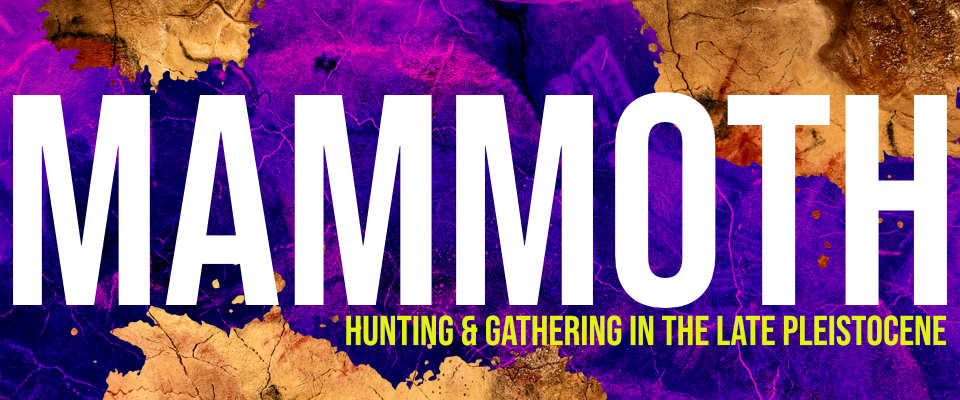 MAMMOTH
You are a band of humans in the Late Pleistocene age, about 12,500 years before present.
---
CW: Death, Food Scarcity, Starvation, Hunting and Animal Violence.

---
About Mammoth
Mammoth is a one-page tabletop roleplaying game for one or more players.
It's meant to be played as a one-shot, but could be turned into a campaign.
Create a band of early humans, and set off to the Northern Hunting Grounds in search of a woolly mammoth. Each day you'll choose to either gather food and craft items, or travel onward.
All you need to play is paper, pens or pencils and some dice.
This game was made for the Long Tail Games Tiny Tome Jam. It fits on either two A5 pages or one A4 spread.
The Cave Wall
The game relies on your drawings as a mechanism for adding player abilities over time.
At each cave, update your group's "cave wall" to tell your story of wild animals and long journeys on sheet of paper. The drawings you make will last from game to game, and will influence future games.
While the drawings in the caves of Lascaux, France and Altamira, Spain are beautiful and detailed, stick figures and scribbles work just as well. The point is to collectively tell your group's story in pictorial form.
Over time you'll end up with a collaborative drawing made by you and your friends that can be used in future games.
Using Skills
You have three skills: Hunting, Gathering and Crafting.
To see if you succeed at doing something, roll a d20 vs. the appropriate skill value. If you roll less than or equal to the skill value, you succeed. Rolling a 1 is a critical success and a 20 is a critical failure. Low rolls are good. High rolls are bad.
Safety
Please make sure everyone feels safe and is having fun.
The TTRPG Safety Toolkit is a resource co-curated by Kienna Shaw and Lauren Bryant-Monk. The TTRPG Safety Toolkit is a compilation of safety tools that have been designed by members of the tabletop roleplaying games community for use by players and GMs at the table. You can find it at bit.ly/ttrpgsafetytoolkit.
Share your cave wall drawings on Twitter with the #MammothRPG hashtag!
Download
Click download now to get access to the following files:
EXEUNT-Mammoth-Pages.pdf
11 MB
EXEUNT-Mammoth-Spreads.pdf
11 MB
EXEUNT-Mammoth-HexMap.pdf
5 MB